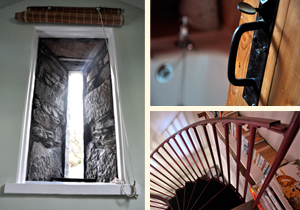 Accommodation
North Barn
North Barn was originally the hay-store and stable. Downstairs it has a kitchen and dining area with a separate living-room. A spiral staircase leads up to the bathroom and gallery bedroom with double bed.
"Can't think of anywhere better to come for our first post-lockdown holiday. Weather has been amazing and we have enjoyed leaving the car parked all the time, exploring by bike and on foot". – Paula and Les Watson,Kippen,Stirlingshire. August 2020.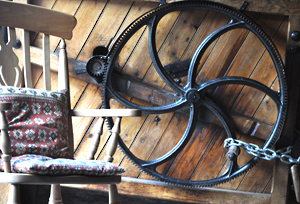 Middle Barn
Upstairs, Middle Barn has a double bedroom, a twin bedded room and a bathroom. Downstairs, the kitchen and dining area leads through to the living room where the main feature is the glazed stone-arched entrance to the old cart shed.
"Another delightful stay in Middle Barn. More lovely walks (dodging the downpours) and lots of much-needed R+R." – Anne Balfour, Blanefield. September 2020
South Barn
South Barn, the smallest of the Barn Cottages was once the farm milking parlour. The living room, dining area and kitchen area are all in one room. A spiral staircase leads up to the bathroom and gallery bedroom with double bed.
"Thank you for a beautiful holiday. We love the cottage and made our acquaintance with the resident buzzard. This is our first trip to Crinan and it exceeded our expectations." – Steve and Anne Richmond, Malton,Yorkshire. October 2020.
Heating: Off-peak storage heaters on Economy 10 tariff. Electric coal-effect, cast-iron stoves in the living-rooms.
Hot water heating: Electric immersion heaters on Economy 10 tariff with manual override. North and South Barns have full-sized baths with showers over the bath. Middle Barn has a shower only.

Cooking: Kitchen areas all have electric cooker, fridge and microwave.
Laundry: Our large washing-machine at the farmhouse is available for guests to use.
The cottages all have digital TV with Freeview, integral DVD/CD player and digital radio. They are all hard-wired for Broadband and each Barn has an individual wi-fi network with unlimited internet access free of charge.
There is a large garden with grassy area for guests to enjoy, and each cottage has its own garden furniture. There is plenty of space for parking beside the Barn building.
---
Rhuaglach Cottage
Accommodation for 5/6 people
A few minutes drive over the hill from the Barn Cottages at Kilmahumaig is Rhuaglach our newly renovated and refurbished cottage with spectacular views over the Crinan Canal to Loch Crinan and Duntrune Castle.