History
Mid Argyll is an area rich in history and pre-history. The short climb up to Dunadd Fort, the ancient capital of Dalriada, will reward you with wonderful views out to the west, and a visit to the nearby Kilmartin Museum (kilmartin.org) provides a fascinating introduction and background to the numerous standing stones and burial cairns in the Kilmartin Valley. In the churchyard beside the museum there is a collection of beautifully carved medieval burial stones. All these are within 15 minutes drive of Crinan and should whet your appetite for exploring further afield.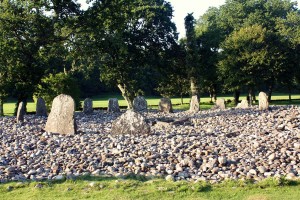 Boat Trips
A trip to see the famous Corryvreckan whirlpool will be a highlight of any holiday in Crinan (www.whirlpool-scotland.co.uk), and boats go out every day in the summer from Crinan Harbour and Ardfern. (www.venture-west.co.uk, www.craignishcruises.co.uk). These trips are a great opportunity for bird-watching and wildlife spotting with regular sightings of sea eagles, peregrines and seals, and if you're lucky golden eagles and porpoises.
Bird Watching and Wildlife
Roe deer and red squirrels can often be seen in the garden and although there are pine marten and otters around, they are much less easy to catch sight of. The River Add Estuary which runs alongside the canal towpath is an excellent place for bird watching. There are several osprey nests within a five mile radius of Kilmahumaig.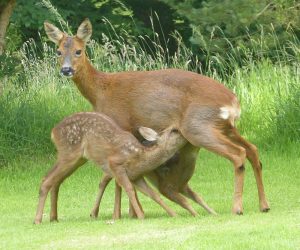 We are a 10 minute drive from the are where the Knapdale Beaver Trail was conducted. The Scottish Government has decided to increase the number of beavers over the next few years. There are way-marked paths and a hide beside the lochs where the beavers are in residence..
Barns owls successfully fledged three young last year at Kilmahunmaig and two tawny owl chicks fledged at Rhuaglach. Spotted woodpeckers drum in the trees and a large variety of small birds can be spotted in the garden.
Walking
Crinan Wood is a Woodland Trust Reserve and there is a lovely woodland walk over the hill behind Kilmahumaig. This leads down to the canal towpath and round to Crinan Sea Lock – always busy in the summer with yachts and fishing boats. There are also numerous forest and hill walks accessed directly from Crinan or a short drive away.
Cycling
There are miles and miles of quiet single-track roads in Mid Argyll which are ideal for cycling, and also the canal towpath. This is a 9 mile stretch from Crinan to Ardrishaig with the popular Cairnbaan Hotel and pub at the half-way point; for something a little more strenuous try the forestry cycle route to Carsaig and Tayvallich.
Shopping
Lochgilphead (6 miles) is the nearest town, with a good selection of shops including a Co-op supermarket open 7 days a week.
Eating out
It's only a 10 minute walk to Crinan Hotel with its seafood bar and quayside coffee shop; alternatively Tayvallich Inn, Kilmartin Museum Cafe and Cairnbaan Hotel are all within easy driving distance. Tarbert has several restaurants specialising in local seafood.